A Legacy of Britain in Georgia
Kutaisi Hosts the Exhibition The Wordrops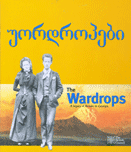 On this day the British Council organized an exhibition "The Wardrops" in the Meskhishvili Drama Theatre. The exhibition celebrated historical ties between Great Britain and Georgia, particularly the lives of Oliver Waedrop, who was the first "British Chief Commissioner of Transcaucasia" from 1919 to 1921, and his sister Marjorie Wardrop, who is famous for her scholarly work, most notably for her translation of Shota Rustaveli's poem "The Knight in the Panther's Skin" into English.
The ceremony was opened by the Director of the British Council Ms. Joe. The British Ambassador in Georgia emphasized the role the Wardrops played in strengthening the friendly links between the British and the Georgian peoples. The opening ceremony was attended by the city authorities and representatives of Kutaisi intelligentsia.
The Governor of Imereti District – thanked the organizers of the exhibition and the honorable guests for the support and assistance the British people provide to Georgian the people.
The most impressive part of the ceremony was donation of 220 volumes of world classic literature by the British Council to the English Department of the Kutaisi State University. The gift is very valuable for both teachers and students of the University.
The participants were provided with nicely-made booklets about the Wardrops compiled by Mr. Peter Nasmyth. In his speech Mr. Peter Nasmyth said that Nino Wardrop, Oliver's daughter had sent her best regards to the Georgian people. She was sorry she was not able to come to Georgia on this occasion due to her being unwell. The exhibition ran for 5 days in Kutaisi and till 11th of October. It was visited and enjoyed by hundreds of people every day.
The exhibition "The Waedrops" was one of the most important (pages) events in the history of friendship between the British and the Georgian people.