Education Is Part of Our Future
Eka Topuria Acting Head, ESD KSU
The general strategy of restructuring the Georgian educational system has been the subject of much debate. The recently adopted National Exams no longer attract a bitter controversy and their success is already above suspicion.
Due to the current educational reform a lot of changes are being made at Kutaisi Akaki Tsereteli State University. The University Board is actively involved in reforming the old system of education management and tries to keep pace with the best Western standards.
The English Studies Department, its older and younger generation take a great interest in all new requirements and the number of challenges they meet on the way of ongoing reforms.
European Credit System was introduced in our BA and MA studentsí academic life and accordingly, lecturers started to update their methods of instruction. They admit that being a completely new system, it somehow, complicates the evaluation process but is far more effective and fruitful than the old one. Besides, ECTS will provide our graduates with an internationally recognized diploma and will enable them to pursue successful careers inside or outside Georgia.
Moreover, the English Studies Department of Kutaisi State University offered graduates diverse Master degree programmes for this academic year:
∑
MA in English Language and Literature

∑

MA in Communicative Linguistics

∑

MA in Roman-Germanic Linguistics

∑

MA in Applied Linguistics

∑

MA in the Theory and Practice of Translation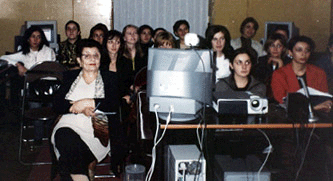 In addition to meeting the general KSU admissions requirements, students had to obtain a minimum score of 51% in the specific examination arranged by the Department. Overall, 43 students demonstrating English language proficiency and basic knowledge in relevant theoretical disciplines were enrolled on the above mentioned MA programmes.
What is the most important, students eagerly accept and respect the educational innovation regarding it as an essential part of our future.