English Studies Department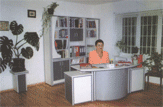 The English Studies Department (ESD), the oldest and largest one at Kutaisi State University, is one of the widely recognized centres of English language learning / teaching in Georgia. Throughout its long history, the Department has always efficiently met changing world standard requirements in popularizing and teaching the language. The department has trained more than 2000 professionally competent specialists and is making a great contribution to introducing and developing new methods of teaching English in the country as well as performing intensive research in this field.

The Head of the Department, Professor Madonna Megrelishvili, PhD, has been leading its work with great responsibility and professionalism since 1994. Thanks to her tremendous efforts, the Department has made great progress. It is due to her enthusiasm and initiative that the ESD has established links with universities overseas which has made it possible for students to have contacts with different countries and participate in international conferences. To foster professional upgrading of the staff, Prof. Madonna Megrelishvili as Head of the Department invites on a regular basis British and American experts and arranges study visits to English-speaking countries.

At present there are more than 1000 undergraduate and 65 postgraduate students majoring in English. The Department has four professors, eight associated professors, 17 senior teachers, 20 teachers including 15 MA, 3 labassistants and a programmer. Seven teachers have been awarded certificates of Language Development for English Language Teachers by the ETAG and the British Council.
It is particularly noteworthy that the department is equipped with tele-communication and language laboratories and a rich reference room which have consistently proved to be instrumental for training young specialists.

In the years of 1995, 1996, 1998, 2000, 2003, 2004, 2005 the British and American Embassies, the Newport- Kutaisi Association and the British Council have worked in partnership with the Department and supplied the reference room with excellent resource materials.
The project "Technical Assistance to the English Studies Department" was granted by the Open Society _ Georgia Foundation which made it possible to equip the Department with modern English teaching technology.