ESD Links

The ESD has close links with the Embassies of Great Britain and the USA in Georgia. It receives honourable guests from many countries of the world _ the UK, the USA, Australia, Germany, France, Italy, Denmark, the Netherlands, etc. More than 267 foreign guests have attended meetings of the ESC in the last ten years Among them were the Ambassadors of the UK and the USA, politicians, professors, experts in education and culture, journalists, businessmen, etc. The guests were greatly impressed by the activities of the club, its democratic style of work and by the students' fluent English. The club is planning to collaborate with universities of the UK and the USA.

The ESD has long-standing close links with the Universities of Great Britain (Newport, South Wales) and the USA (Columbia, Missouri). The collaboration with these universities which greatly contributes to raising teaching standards is one of the Departmentís priorities.
The Department attaches a special importance to its collaboration with the Kutaisi-Newport International Association (KNIA). The twinning between the two cities is considered a model of international friendship and has greatly contributed to the promotion of cultural and educational links. The unprecedented success of the Association has greatly enhanced the work of the Department as the Department members are the main facilitators of the KNIA activities.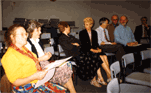 In 1996 a cooperation agreement between Kutaisi and Newport Universities was signed. Under this agreement, gifted young people from Kutaisi are provided with an opportunity to study and to do degree seeking programmes in University of Wales, Newport (UWN) without paying tuition fees.

It is worthy to especially note that TEMPUS-TACIS Programme 1998-2000 worked out by UWCN granted to Kutaisi State University. The module system of teaching English and the ALUMNI Association set up by the Department became parts of this project. The ALUMNI Association equipped the Department with modern office furniture, technical facilities and made it possible to pay tuition fees for several bright students.

Students and graduates majoring in English actively participate in international exchange programmes such as IREX, ACELS, MUSKIF, CEU, etc. Many of them have successfully completed these programmes. Some are currently continuing their study at overseas universities.

The Department receives a gift subscription to the newspaper THE GUARDIAN WEEKLY and the journals FORUM, the LANGUAGE ISSUES, THE READING, THE RESEARCH IN READING, THE PAST TIMES, THE TRANSITIONS, etc. from London. They are widely used fro teaching purposes.

In 1996-1999 the Department issued the English language newspaper KUTAISI - NEWPORT TWINNING ASSOCIATION. Since 2000 the work of the Department has been widely covered in ARIEL, the journal published by the NKTA and in THE LAND OF THE COLCHI, the journal of the KNIA. Both journals popularize the unique friendship between the two cities and deserve great praise. This friendship is so significant that representatives of Newport and Kutaisi are traditionally invited to Georgian Study Day in London.