Kutaisi State University

Kutaisi Akaki Tsereteli State University is located in a city of ancient history and rich cultural traditions. In different times Kutaisi was the royal capital of Colchi, the medieval kingdom of Egrisi, unitied Georgia and Imereti.
Like Tbilisi University Kutaisi State University (former Teachers Training Institute) continues and develops the best cultural, scientific and educational traditions of Gelati Academy founded in the 12th century by King David the Builder (Agmashenebeli). Despite many centuries separating Kutaisi University and Gelati Academy there are obvious links between these two establishments.
Kutaisi State University was set up on the traditions of Tbilisi State University founded in 1918 by the initiative of the famous Georgian scholar Ivane Javakhishvili. In July, 1930 the government transformed Tbilisi State University into four independent higher educational institutions. One of them was Tbilisi State Teachers Training Institute which functioned till 1933. When Tbilisi State University was re-established under the resolution of January 8, 1933 this Teachers Training Institute was transferred to Kutaisi and began functioning on February 13.
During the first academic year (1933) of Kutaisi Teachers Training Institute 700 first and second-year students were from Tbilisi. They were taught by the professors who also moved from the capital and since then it has become a tradition to invite famous academics, scholars and scientists from Tbilisi to work at the Institute.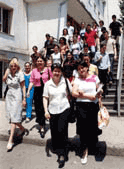 Kutaisi State Teachers Training Institute successfully functioned 60 years and in 1990 was granted the status of Kutaisi Akaki Tsereteli State University (KSU). Since 1992 it has had the status of an autonomous institution. So the history of KSU begins with the history of Kutaisi Teachers Training Institute, on which it is based (for more detailed information about KSU and Kutaisi Teachers Training Institute you can acquaint with the works by Giorgi Mchedlidze, Petre Vachridze, Guram Gabunia and Demur Gureshidze).
Kutaisi State University has won an outstanding academic reputation for excellent educating and upbringing generations of Georgian people. Since its foundation more than 170 thousand students have graduated from the University. Among them are the well-known statesmen, politicians, scientists, writers, the representatives of cultural and educational fields, sportsmen and others. Among the graduates of this higher educational institution are many outstanding people (writers, scientists, representatives of fine arts, politicians, etc.).
It is noteworthy that many famous Georgian scientists worked at Kutaisi Teachers Training Institute for many years developing its best traditions without gratis.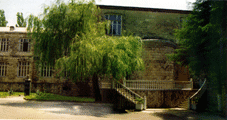 At different times the lectures at the University were delivered by the academicians:
George Akhvlediani (1887-1973), Alexander Baramidze (1902-1994), Kote Bakradze (1898-1970), Ivane Beritashvili (1884-1974), Nicko Berdzenishvili (1894-1965), Angia Bochorishvili (1902-1982), Levan Gokieli (1901-1975), Varlam Topuria (1900-1966), Ivane Kacharava (1894-1977), Korneli Kekelidze (1879-1962), Nicko Ketskhoveli (1897-1982), Mathe Mirianashvili (1906-1975). Revaz Natadze (1903-1984), Shalva Nutsubidze (1888-1969), Michael Sabashvili (1900-1979), Dimitri Uznadze (1886-1950), Alexander Prangishvili (1907-1989), Peter Kometiani (1901-1984), Simon Kaukhchishvili (1895-1981), Akaki Shanidze (1887-1987), Vasil Chantladze (1904-1995), Arnold Chikobava (1898-1985), Shota Dzidziguri (1911-1994), Giorgi Dzotsenidze (1910-1976), Vladimer Chelidze (1906-1978), Giorgi Chogoshvili (1914-1998), Alexander Javakhishvili (1875-1973), Alexander Janelidze (1888-1975), Giorgi Jibladze (1913-1989). Professors: Andria Benashvili (1868-1941), Meki Bekaia (1887-1964), Giorgi Gekhtmani (1870-1956), Mose Gogiberidze (1897-1949), Nokoloz Dubrovski (1876-1943), Giorgi Tavzishvili (1902-1963), Sargis Kakabadze (1886-1967), Shalva Sikharulidze (1904-197)), Archil Kharadze (1895-1976) and others.
Since 1989 the University has been named after the great Georgian writer Akaki Tsereteli.
Nowadays the University occupies four buildings. The main building built at the beginning of the 20th century is of great historical importance. First it housed a high school and at that time before the Soviet period in the present reading-hall there was St. David and Konstantine Mkheidze's chapel which was closed down when the Bolsheviks came to power.
On October 15, 1998 the chapel was restored and blessed by Rev. Kalistrate, Kutatel-Gaenati Metropolitan. Nowadays a church is being built on the University campus. The construction was visited and blessed by his Holiness Catholicos Patriarch of all Georgia, Ilia II.
In 2003 the sculpture of the great Georgian poet Lado Asatiani, the University graduate, was set up on the university campus (sculptor – Gogi Nikoladze).