A Month with Mike Singleton
Eka Guntsadze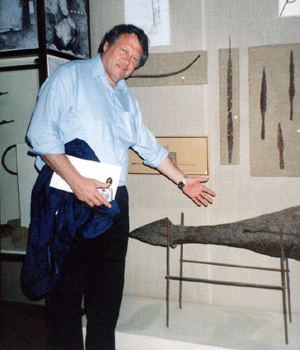 English Speaking Club and KNTA give students a great opportunity of meeting with different people from foreign countries but Mr. Mike Singletonís visit was a special one as we had a chance of communicating with him for about a month. It was a very interesting mixture of free talks at the club and lectures in front of a large audience of students the number of which increasing from lecture to lecture made us move from an ordinary lecture room to a large conference hall.
Mr. Singletonís visit was a very interesting one for several reasons. At lunch time we had an opportunity to discuss with him different topics some of which were really controversial.
During the lectures, Mr. Singletonís aim as he himself declared was encouraging students in creative writing. He gave us some examples of good essay writing and encouraged us to take part in the competition. He even checked some of the studentsí essays and shared his opinion on them.
Mikeís method of giving lectures was also very interesting. He read some extract from a book, focusing on some important episodes and then tried to draw our attention to the methods of writing. At the end of each lecture we asked questions and discussed the book. After the lectures students felt as if they had already read the book and at the same time had a great wish to read it.
Mr. Singleton also chaired the annual Conference on British, American and Georgian Studies held by English Studies Department each year in May and expressed his opinion on the papers delivered by representatives of secondary schools and students. We are thankful to Mike for his good advice.