Newport International Competition for Young Pianists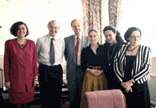 WATEVER your reason for visiting Newport you always experience the warm hospitality if Welsh people. This time the reason of our visit was Newport international Competition for Young pianists, in which Patti Jinjikhadze from our town took part. It should be mentioned that this competition has gained a high reputation in the music world for its high standard and wide variety of competitors: 77 musicians from all over the world participated.
Before our leaving for Newport, Patti's music teacher a very experienced musician Assistant Professor Tsisino Todua said to her: 'It is not so important whether you gain or lose, the main thing is the way how you perform '. And Patti did her best. She gave two concerts in one of the most magnificent Charles II Houses: in Britain, at Tredegar House and received a standing ovation on both evenings. We also were delighted that the Mayor and Mayoress Mr. and Mrs. Wright, along with Gia Sulkhanishvili representing the Georgian Embassy, were able to attend one of the concerts.
On July 9 in the Newport International Competition for Young Pianists in London Patti Jinjikhadze perform extremely well and was very pleased with the way she played. She came out of the audition room with a big smile on her face, feeling that she had played to the best of her ability.
The last accord: Newport Mayor and Newport-Kutaisi Association decided to award Patti $1000…
Finali , we'd like to express our special gratitude to the chairman of Newport-Kutaisi Association Mrs. Rosemari Butler and our charming hostess Mrs. Eleanot Gower for their heartfelt attitude to us. They did their best to make us feel at home.
A little time has passed since we were in Great Britain, but I already have nostalgic memories of the place where I lived and of the people whom I met in Newport.
Generous Gift

A generous gift $1.000 came from the Newport Kutaisi Asso-ciation to a talented participant of the Newport International Competition for young pianists, Patti Jinjikhadze which helped towards her further piano studies.
Patti Jinjikhadze expresses deep gratitude to her sponsors in Newport for funding her musical tuition, travel expenses and accommodation costs.
Patti's sponsorship can be used a s a pilot scheme to ensure the supervision of similar funding in the future.
We thank our sister Association for the prospect of having similar sponsorship for other students, as the Newport Kutaisi Association believes It would be appropriate is a system could be established in Kutaisi for channeling such money to the recipients and monitoring its use.
A five-member trustees Board has been elected: Professor Madonna Megrelishvili (chairperson), Lyalya Kobeshavidze, Tsitsino Todua, Lamara Shamugia, Giorgi Zhgenti.
The Trustees will monitor the progress and achievements of the recipients against their plans periodically, as all expenses must be accounted for with proper written receipts and an annual statement of expenditure prepared for the Newport-Kutaisi Assocaition.