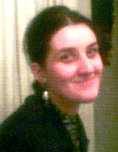 Six Years Later
Eka Kurdadze
Our university life full of happy expectations and new experiences began in 1995. A group of ten freshers was expecting something new and exciting . The University seemed to be not just an institution for getting higher education, but also a place where we could have interesting acquaintances and friends and exciting social life clouded a bit with important tests and exams. There were really busy years packed with classes. reading assignments and tests but still we made the most of the best years.
I assume we were one of the luckiest who were able to get the first MA degree at KSU. I cannot avoid mentioning the effort the university teachers put into our education. We did realize we needed to have good qualification to get anywhere in the competitive world. I am sure none of us will forget the first impression we got at the English-speaking club functioning at the Department. It received (and still does) honorable guests from many countries of the world, therefore we had a great opportunity to improve communication skills and to have individual approach to learning English. I believe it was a perfect place for getting over some language difficulties as well as having fun while communicating with foreigners. Our fellow-students took an active part in these meetings to make guests impressed by Georgian and English songs as well as jokes performed by the wittiest and the most cheerful students.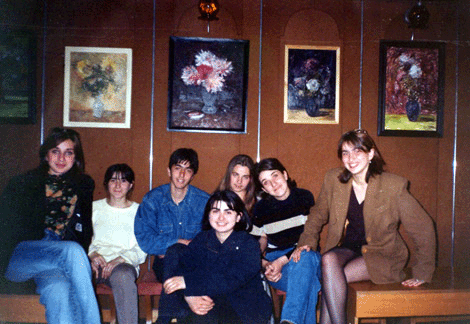 Khachi, the only boy of our group was "the driving force" for us. One could easily notice his great sense of humor and a very lovely personality. He never stopped kidding, His jokes were heard even in the English-Speaking club at the meetings with our foreign guests. He was aware of all the diets for keeping fit and he never stopped giving us some hot tips on trendy clothes and cool hairstyle, he felt certain about the best quality lights for girls to wear...
Time is rushing by. You can meet our graduates nearly in all continents. If you had told Nana Ioseliani and Thea Maisuradze six years ago that they could get a job in the biggest and hottest African countries like Kenya and Sudan, they would have looked at you with large surprised eyes. The other days Nana visited us quite unexpectedly here in Kutaisi. She is based in Khartumi and works with UNMIS, which Stands for UN mission in Sudan. Her position is called Information Management officer. She had an endless list of responsibilities, but the main thing she doesn't like about her being there is the fact that she misses her family greatly. Thea had also been very busy working in Kenya for UN mission but having had a baby she moved to Tajikistan where her American husband works.
Most girls from our group work in different NGOs in Tbilisi. Ann Cheishvili, the most sociable and curious in our group, was the first who got a job in one of them in Kutaisi, later she changed many positions , was promoted and now works for CHF (Community Habitat Finance) in Tbilisi. Maia Purlskhvanidze , our 'group manager' is happy with her three-year-old son and a caring husband. She works in World Vision in Tbilisi head office and , unfortunately, is a rare visitor to Kutaisi. Salome Shushania, one of the brightest and hard-working in our group also succeeded greatly and now works in the US Embassy, not married yet. Nana Tsotsonava always demonstrated a perfect knowledge of the English language. Determined and having a strong desire to be successful she got a job in the TBC bank in Kutaisi. Maia Nachkepia, the most patient and thick-skinned person in the world, was extremely focused on her studies. She possesses an amazing command of the English language and now works at the University teaching English. I believe one cannot work with her and not notice her kindness and intelligence.
Irma Grdzelidze and Tamar Grigalashvili defended their dissertations very successfully and gained a candidate degree. Thcy keep on doing further scientific research and are active members of the English Department. Irma was the oldest and the experienced in the group. so we did look up to her. She assumed overall responsibility for us, because she felt it was her duty to take care of nine inexperienced girls and one amusing boy who thought everything was funny even flunking an exam. Despite the difference in age we 'clicked' immediately and Irma was the person we could completely rely on in any situation.
Eka Kurdadze, the author of these lines, is a member of the English Department and mother of two children. Busy with the family I am willing to work with students because communicating with them gives me an opportunity of studying so many interesting things. Throughout my teaching experience I noticed one very important thing, the more you teach the more you learn.
Funny and confusing situations, interesting acquaintances, learning new things every single day all made our six year study period the most rewarding and memorable experience of our life. Thanks to the Internet we have a chance of keeping in touch with each other through e-mail.