Today's Situation and Further Fteps
Antonella Valmorbida, Director ALDA
Certain cities have already confirmed their partnership with the LDA, it is the case for Nantes, Strasbourg and Newport. Moreover, Bristol, Saarbrücken and Vicenza have shown their interest. As far as NGOs are concerned, The Norwegian Association of Local and Regional Authorities and the Institute for Social ethics are interested and are thinking of becoming partners in the near future.
Ms. Valmorbida highlighted that the fact-finding missions have led to the certitude of establishing an LDA in Kutaisi (see mission report), which still leaves the possibility of organizing events in Tbilisi and Khashuri, Partnerships can be either international, national or local.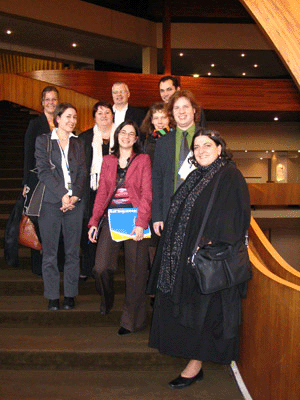 The agency's main activities will include training, capacity building, youth and women empowerment, as well as exchange of best practices. The next Steps are
A confirmation of the Agency's partners

A leadership of the partnership must be determined

A Delegate must be found according to the Delegate profile ALDA adapted from their experience in the Balkans

An action plan must be established

A possible opening date must be determined
Antonella Valmorbida said that the LDA is not intended to promote trading between enterprises. When ALDA organizes visits for enterprises, they do not organize any follow-up because they lack' juridical knowledge in this area. ALDA's focus remains on capacity building of local enterprises, a project supported by France and Norway. In addition, ALDA is currently developing a micro-credit Programme with the Norwegian Association of Local and Regional Authorities.
Further, Ms. Valmorbida explained that the Delegate will have a picture of all the partners' interests and resources and he will take care of matching partners, including local partners. In terms of finance, becoming the lead partner does not mean more financial contributions, but more time spent on the LDA. Today ALDA sent out invitations to the partners' meeting, but in the future this will be undertaken by the lead partner.